Last year, I had my first fully vegan Thanksgiving. Of course, I've eaten vegan at every Thanksgiving since I went vegan 5 years ago, but I'm used to having at most 1-3 things to eat at potluck friendsgivings… but this time, ALL of the food around me was vegan!
I had so much fun getting to make this giant feast for my fiancé and I, and it turned out amazingly. And I'll be doing it again this year for him and my lovely (nonvegan) soon-to-be in-laws! So, I'm sharing the dishes I made, and plan to make again this year, to give you some Thanksgiving inspiration!
1. Cheesy scalloped potatoes
Everything was amazing, but these were the star of the show. Here's the thing with most vegan scalloped potato recipes: they're wonderfully healthy, full of nooch and cashews and whatnot, and take a bit of time to prep. Usually I'm all about that. But for this, we wanted something 1) easy and 2) super decadent and stuffed with storebought vegan cheese… because, y'know, Thanksgiving. So here's a sneak preview of my recipe before I do a whole post on it:
2

 

pounds Yukon gold

 potatoes

¼

 

cup

vegan

butter (we use Miyoko's)

¼

 

cup

 

all-purpose flour

2

 

cups

 

vegan half & half

Salt & pepper

2 1/2

 

cups

vegan cheese shreds, we used a mix with cheddar & white cheese

Paprika
Preheat oven to 350 degree F

Peel the potatoes and boil them whole until they're starting to get tender, about 15 minutes.

Now make the cheese sauce. Melt butter in a saucepan over medium heat and add the flour, whisking constantly for about 2 minutes, or until the flour turns golden brown. Stir in half & half and cook until thickened, stirring often, for about 2-3 minutes. Remove from heat and stir in 2 cups of shredded cheese. Season with salt and pepper.

Slice the potatoes into 1/8 inch rounds–I recommend using a

mandolin

to get the slices even. Place 1/3 of the potatoes overlapping in a single layer in the baking dish, seasoning with salt and pepper. Spoon about 1/3 of the cheese sauce on top of the potatoes.

Repeat for two more layers. Pour all of the remaining cheese sauce over the top layer of potatoes. Spread to ensure all of the potatoes are covered.

Sprinkle with 1/2 cup shredded cheese and a dash of paprika for color.

Bake in the 350 degree oven for 20-25 minutes, or until the sauce is bubbly.
2. Stuffing
This was a nice healthy counterpart to the rest of the feast. It was refreshing to load up on lentils, veggies and starches in between digging into the rich scalloped potatoes and roast. You can also do prep for this the day before by chopping up all the veggies. Or, you could even make the whole thing the day before–it was great leftover!
3. Sweet potato casserole
I ended up making my own version of this and will be posting my recipe before long–but you can't go wrong with any recipe involving sweet potatoes topped with toasted, buttery pecans! You can make the sweet potatoes and topping the day before, then wait to combine them til the day of: just add the topping and pop it in the oven once you're nearing dinner time!
4. Roast
You could make your own roast, but for the time to taste trade off, I would recommend going store bought for this. Our favorites are the Trader Joe's vegan roast, and the Field Roast line of roasts. (Tip: we've tried all the roasts we've seen in stores, and really did not like Tofurkey's roast unfortunately)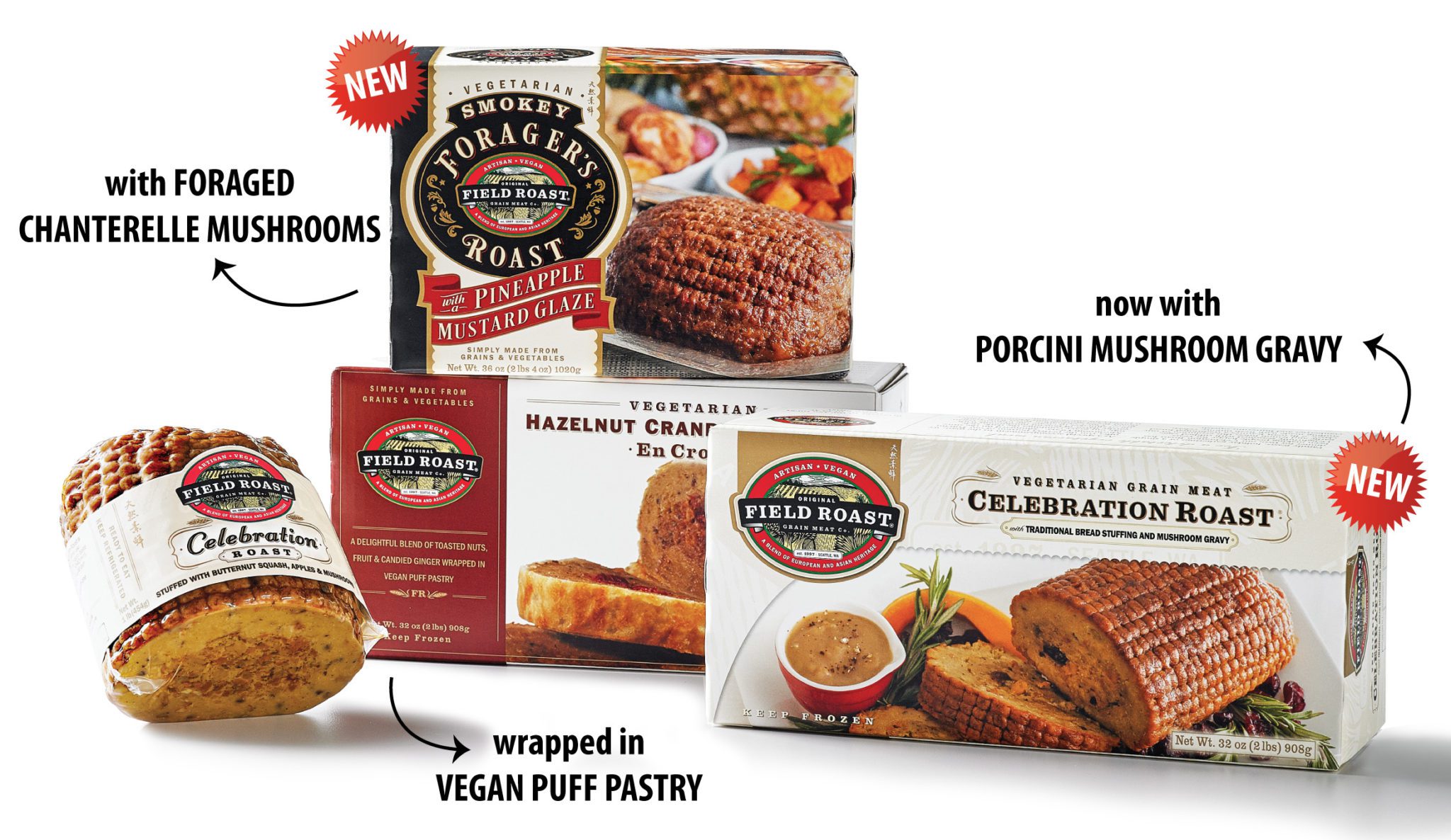 5. Brussels sprouts with bacon
This one's an optional side–any of your favorite veggie sides would work. You could also roast these in the oven if you have space, but a major plus of this version is you can leave the oven free for the roast, stuffing, scalloped potatoes, & sweet potatoes!
6 strips vegan bacon (I recommend Upton's naturals for this recipe)
2 tablespoons vegan butter
1 pound Brussels sprouts, halved
1/2 large onion, chopped
Salt and freshly ground black pepper
Cook the bacon in a pan until it's your desired level of crispiness/chewiness.
Remove the bacon, and chop it once cool.
Melt the butter in the pan, then add the onions and brussels sprouts, stirring occasionally, until the sprouts turn golden brown.
Add the bacon back into the pan with the sprouts, season with salt and pepper, and serve.
6. Pumpkin Pie Blondies
In addition to being a fun but easy fall-themed dessert, these were great for breakfast on Thanksgiving morning, too! (I made them the day before because they keep great.)
7. Bonus dessert: Pecan pie bars
If you're a big pecan lover like me, you might prefer this simplified version of a more classic dessert: pecan pie! I know there are already pecans on the sweet potato casserole, but I believe there's no such thing as too many pecans on Thanksgiving. 😉 I didn't make them last year but I'm planning to this year–they're always a big hit at potlucks.
For the crust:
1.5 cups all purpose flour
1/3 cup brown sugar
1/4 teaspoon salt
1/2 cup coconut oil
For the filling:
6 tablespoons coconut oil
1/3 cup maple syrup
2/3 cup brown sugar
1/3 cup coconut cream (or coconut milk for a lighter version)
2 cups chopped pecans
Preheat oven to 350, and line a 9″ pan with parchment paper.
Combine the crust ingredients (flour, sugar, salt, and coconut oil) and stir until they combine into a dough. Press into the bottom of the pan and bake for 15 minutes or until the crust is slightly firm to the touch.
Now for the filling: stir the coconut oil, maple syrup, and sugar in a sauce pan until combined, then boil for 1 minute. Remove from heat and add in the coconut cream and the pecans.
Pour the filling onto the crust and spread it evenly.
Bake until the filling is bubbling and set (no longer runny), 20-25 minutes. Allow to cool completely before cutting.
I hope you have a very happy Thanksgiving, surrounded by those you love ❤